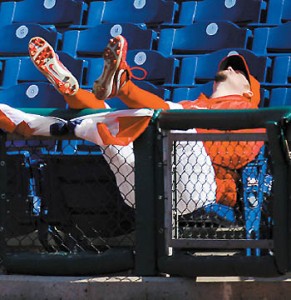 Today on "Hot Stove" on MLB Network, Mitch Williams stated that the Phillies would have made a smart move if they had traded Joe Blanton and Placido Polanco for the Rangers' third basemen Michael Young. Bull shit.

I don't know how many times I have seen Phillies fans make the most pointless comments by arguing that Joe Blanton should have been traded somewhere, anywhere, for money. You must be a narcissistic, apathetic fool to listen to those who say "get rid of Blanton!" Think about this, would you rather be a fan of a team with an absolutely perfect starting rotation and a very minor issue in right field, or a team with fifth-starter issues as well as the minor right field issue? I take the first one.
As for Placido, the Phillies simply cannot replace a guy like him, all the man does is hit and field third base perfectly, and I have never, ever complained about him. Around this time last year, the major issue was who the fifth starter would be, Kendrick or Moyer. Eventually we would need both of them for the fourth and fifth spot, but that is not the point. The point is that we have the greatest rotation in all of Major League Baseball, so why would a fan of this rotation want to get rid of a part of it? I do not want to relive the fifth-starter issue, and I am very thankful to be a fan and a writer of this team which is nearly perfect.
Wait a moment though, what would have happened if we did get rid of Heavy B? Would Kyle Kendrick take the job? Vance Worley? I suppose we will have to wait another season to see who becomes the fifth starter, and who remains a relief pitcher in the 'pen.
For now, take a breath, we only have to wait three more days (oh my God) until pitchers and catchers report to spring training in Clearwater, then once April 1st comes around in 50 days, we will no longer be deprived of baseball!