An argument for low hanging fruit in a Best & Worst Games contest. Musically linked for your pleasure - SFW and optional, meaning not necessary to explain the narrative. See the end of the Fanpost for a numbered list of the bands which correspond to the bracketed number next to the link in the text body except when text accompanies an image. I must tell you this because the html tags for sup/subscripts no longer work. Not like folks might want to use a footnote for sources or even more novel, an exponent, you know for that math stuff you use in statistics. Or if sup/subscripting is possible, the useless as tits on a nun Fan Post "Style Editor" fails to tell you how and I've already sent emails aplenty on other issues that I've stopped caring. The Josef K. vs. the Wizard of Oz routine ground me down faster than I anticipated. Anyway, pick and choose your favorite cuts!!!! There's just about something for everyone!!!! From No Wave to Emmylou to Sesame St. because, well, Cthulhu loves the children...in school buses!!!! It's a kid loaf with cheese!!!!

Your best bet is to grab the low hanging fruit when Mars attacks [1], it could be the last fruit you ever grab.


★★★★★★★★★★★★★

BEST | Game 2 of the 2008 NLDS featuring the infamous Brett Myers walk [2] that launched a thousand ships...from Mars [3]. We could only hope. At least I did. Weird shit must go down for Philly to win a championship. A Martian invasion qualified [4]. Just moved back to Philly from DC after a 20 plus yr. hiatus enjoying my first game at CBP with a cousin who called last minute, "So I have an extra ticket, you wanna g - " click. Unsane's my co-pilot [5] down 95. By the 3rd inning we're hoarse. Hoarse and twirling rally towels like cat calls to the Mother Ship [6].

painted the planet red in oct. [ 1x ] & then black in nov. [ 2x ].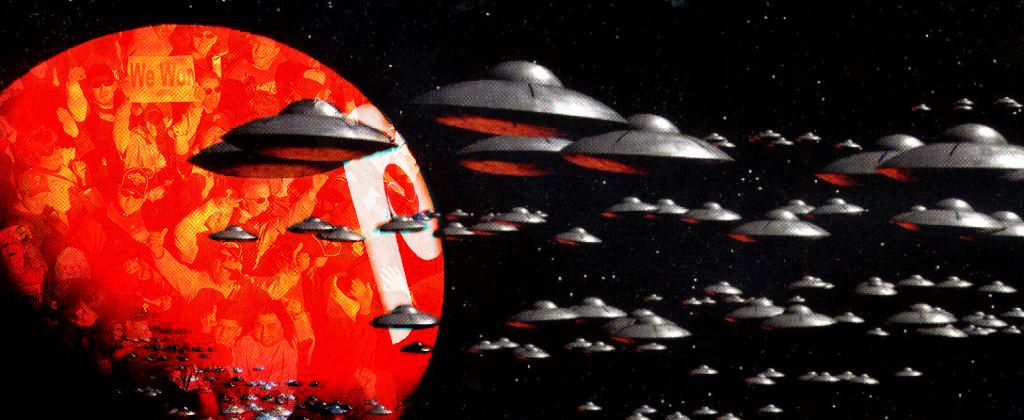 we turned into martians and shot lotsa rays. now fast 4ward


to TGP bloggin from the basement of their ma's nursing home
OCT.


2036
HAHAHA! Look they blew up Congress and Nationals Park!


2036? 28 yr wait again? No way. We'll nip that shit in the bud.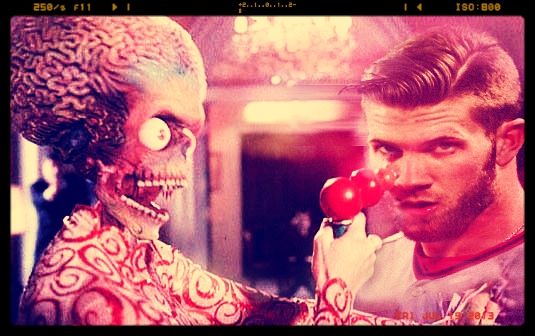 if there's any take away from this year's ASG, it's the HR Derby
shoulda cleared up any doubts that Harper's a douche - canoe

WORST | Game 6 of the 2009 WS [18].
• Line-up flummoxed by Andy Pettitte...again.
• Most
Valuable
Godzilla [19] bomb that unnecessarily humiliated [20] the obviously

wounded Pedro [Gamer]a [21].
• Chad Durbin Mothra [22] humiliated by En Fuego Most Valuable Godzilla [23]. Yes

Chuckles, when faced with death by Atomic Breath [24], your best counter measure is

cocooning weaponry.
• Chad Ass-Silk Durbin [25].
• The injustice of WS celebratory Kate Hudson/Centaur sex [26].

WORSER | There's also another game in 2006, the one and only chance I had to go to a baseball game with my pops. And a sober pops too boot. Nationals vs. Phillies, Nationals Park - RFK then, and fuck, it was huge - no doubt the size inflated Soriano's value. He hit some serious bombs in what amounted to a career year that the Cubs bought into big time. The chemo from the lung cancer treatment kicked my old man's ass too hard and forced him to stay at home with his one remaining white blood cell to watch the game on TV. We won but to no avail [28]; either the Padres or the Stros [and I shit you not - his radiologist, a god damn Stros fan] drove the final coffin nail into our WC hopes [29]. Still remember the Nats fan[s] mockingly cheer as those MLB scores posted. My dad died after watching the 83-78 Cardinals win the WS; he died believing this was the squad to score the Prom Queen [30] if they could just get to the dance.

or some gang bang metaphor?
What I know is this - I'll take low hanging fruit any day if it means a chance to either hump a Prom Queen or even get slapped by one [32].

SHE COMES IN PEACE, SHE COMES IN PEACE
tip of the cap to fellow TGPer, Easedel for "douche - canoe"
★★★★★ MUSIC ★★★★★


0 CORROSION OF CONFORMITY | technocracy
1 DANNY ELFMAN | mars attacks theme
2 BERT | the pigeon
3 MATTHEW SHIPP | rocket shipp
4 BJORK | earth intruders
5 UNSANE | straight
6 PARLIAMENT | mothership connection
7 NOMEANSNO | red devil
8 PUBLIC ENEMY | fear of a black planet
9 ACHOZEN | deuces
10 THE MISFITS | i turned into a martian
11 DRI | nursing home blues
12 MARS | 11,000 volts
13 AGORAPHOBIC NOSEBLEED | timelord zero
14 MAN OR ASTROMAN | defcon 5
15 KILLING JOKE | the wait
16 BROKEN BONES | decapitated
17 TRAGEDY | plan of execution
18 EMMYLOU HARRIS | wrecking ball
19 BLUE OYSTER CULT | godzilla
20 TORTOISE | gamera
21 APHEX TWIN | come to daddy
22 RAT AT RAT R | mothcandy
23 AKIRA IFUKUBE | 1954 godzilla theme
24 GOJIRA | fire is everything
25 LIGHTNIN' HOPKINS | bring me my shotgun
26 XMAL DEUTSCHLAND | incubus succubus
27 GODFLESH | defeated
28 AVAIL | 25 years
29 THE ACCUSED | pounding nails (into the lid of your coffin)
30 VICE SQUAD | princess paranoia
31 PUSSY RIOT | putin lights up the fires
32 SONIC YOUTH | i wanna be your dog
00 ALIEN SEX FIEND | she's a killer