I live in Center City and have for seven years now. One thing I've always thought was unfortunate was the lack of city-wide street-level advertising for the Phils. Over the past seven years, I can think of only a handful of bus signs, billboards, bus stop ads, subway ads, etc. that I've seen for the Phils.
It seems quite sensible - create a buzz for the team by putting signs up all over the city advertising the games and the players. Why not? It's not like the Phils' popularity here can go down from such an effort.
It was with this long-standing concern of mine in mind that I was happy to see the beginning of an in-city marketing campaign last week. However, as with most Phils' management efforts, it left me wondering if it was just another half-assed attempt to do something that another organization might do really well.
The campaign I've seen so far has featured street banners depicting four Phillies: Ryan Howard, Chase Utley, Jimmy Rollins, and Bobby Abreu. The first three are the popular young stars on the team, so it's not surprising that they are featured in the campaign. Including Abreu is a bit more surprising though. Although he is the team's best hitter and is one of the all-time great Phillies, he is far from a fan favorite. Plus, with questions re-surfacing about the team's interest in Latino players, including Abreu in this campaign is a nice thing to see.
Here are pictures of the four banners (with apologies on the focus of the last one of Rollins):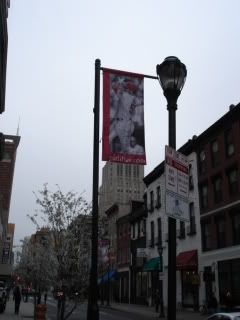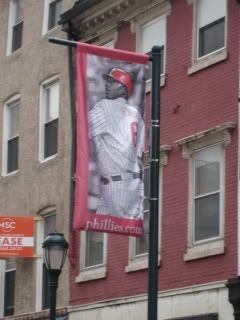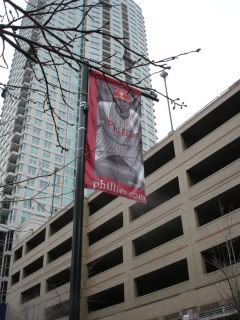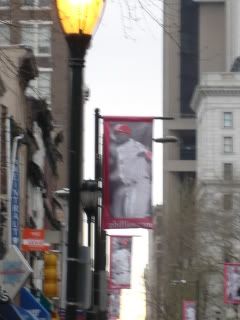 The problem with this campaign, from my perspective, is that it seems to have been done to a bare minimum. There are ten banners on Walnut Sreet between 6th and 9th Streets. I saw another set of ten banners in Chinatown (Arch or Race Street, I can't remembmer). I haven't noticed any around Rittenhouse Square or on South Street, Broad Street, Market Street, or any other major population centers in the city I've been to recently.
If you have seen these banners elsewhere, please let me know and correct this story. But, until then, it appears that the Phils have done something to address the issue of street-level marketing, but once again, have done it in a half-assed way.