What an awful game! It's days like today that you are happy that baseball is a 162 game season. One miserable game down, 161 to go.
Below are some pictures I took at the game. What I found out is that either a) I'm a terrible baseball photographer or b) I really need a telephoto lens from where I sit. Regardless, enjoy.
I should have known the game was going to be bad, as it started with a red Phanatic on the field. The horror!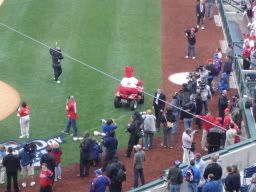 Every opening day the Phils have Navy Seals descend from the air to deliver the first pitch. Today was no different, except there were more of them. Here's the second to last guy landing with a Phillies flag trailing: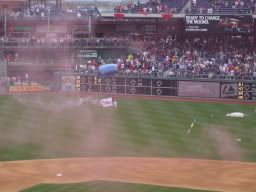 The game started soon after that, and here's the first pitch of the season, from Jon Lieber to David Eckstein (a strike!):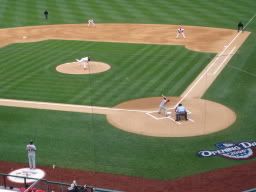 Down 1-0 after a half inning, the excitement in the stadium was palpable with Jimmy Rollins stepping to the plate, looking to extend his hit streak to 37: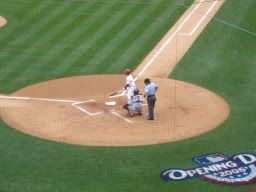 But, he didn't. And the game went downhill fast after that, really fast. I didn't bother with the camera much, as the excitement and the will just wasn't there. Until....
Finally, what we all came for and waited around through the miserable rain and play hoping for: Jimmy rounding second in the bottom of the eighth after his double.
Let's play another!