**"We are the Champions" fades out as the 'Phillies 2008 playoff highlight reel' video ends**
**sigh**
So. What are we looking at tonight.
@magelb pictures describe them much better. One picture, specificallypic.twitter.com/vvAeyEWeft

— Brian (@b_rostick17) July 25, 2013
...
Well, it's no 'Tim Hudson's leg,' but it's pretty hideous.
The Cardinals offense battered the Phillies up and down the scorecard regardless of inning, batter, or pitcher. The always charming Yadier Molina went 3-for-5 with a double. The Cardinals' starting pitcher, Jake Westbrook, walked, stole a base, and scored a run. And Shane Robinson hit a line drive about three or four feet from John Mayberry, whose dive, pictured above, was so inaccurate and purposeless that he was made starting center fielder for the remainder of the season.
Also,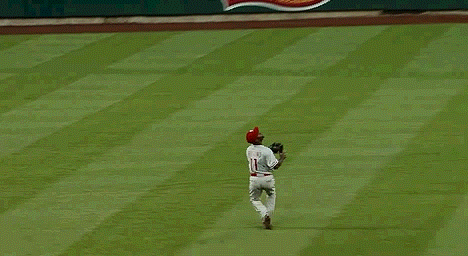 John Lannan (8 hits, 4 runs, 2 walks, 3 K's) got punched around for the Phillies, then left to go talk to a grief counselor after four innings. Onward came that bullpen full of Royal Baby-haters and Electronic Dance Music-appreciaters.
J.C. Ramirez allowed even more runs in the fifth inning than Lannan could in all four of his, putting the Cardinals' total runs at a mere nine, where it would stay all through Justin De Fratus' scoreless sixth and seventh, and be added to by Jake Diekman's single-friendly eighth that permitted two more runs.
As for the Phillies' offense, what can you say? They trickled a few hits through when there happened to be a guy on base. Mayberry, Carlos Ruiz, and Michael Martinez all knocked in a run, but by the time the Phillies were ready to score their three, the Cardinals had piled on 11.
And so, somehow, the Phillies roster of Michael Martinez, John McDonald, Michael Young, and Delmon Young was unable to pull off a win from the best team in baseball. A team with all the stopping power of wet paper surely had its fate sealed on an evening such as this.
Talked to an exec of one team today who said: "Oh, they're buyers. No doubt." RT @_Philly_Talk: Phillies still trying to buy per @jaysonst

— Jayson Stark (@jaysonst) July 24, 2013
Now, enjoy this Fangraph. I'm gonna go Mayberry onto my bed and pass out.

Source: FanGraphs