Lynn Daulton tweeted this awhile ago. It's Jim Fregosi's daughter & Darren Daulton's son. Yep...perfect. #Phillies pic.twitter.com/555qWsi5av

— Jessica Quiroli (@heelsonthefield) September 18, 2014
Somehow, we're more than halfway through September.
We even dumped a lost of the sand from our bags and shoes into the car. "It'll be like a beach all year round!" we explained to confused and increasingly concerned friends and relatives.
Weeks later, as we angrily vacuum the floor mats in the autumn chill, it becomes clear: there is no secret amount of denial, delusion, and wailing that can halt the passage of time.
And that's not only how it's come to be September; that's how we've managed to be 21 years from the only time a Phillies team from the '90s made the playoffs.
It's not that big a deal, and we're all probably sick of it by now. Maybe they were the team that drew Delaware Valley six-year-olds into the game, because they looked funny, had fun, and told jokes that made our dads laugh, that we also laughed at without understanding. Now, we may understand the jokes a little better, and also realized that some of those guys had not actually been - were not going to be - okay. You know the ones I mean.
But with so many years between us and them, we remember more easily the trophies hoisted in the air than the disgusted shakes of the head. They may have ended the season in first place after coming in last in 1992; they may have spent only one day of the 1993 season not in first place. 50 years ago, they may have collapsed in far memorable and complete fashion.
Boston Globe recognized the historic impact of the Phils collapse with this graph just 3 days ago. From an AL paper. pic.twitter.com/5YaVDFl2hB

— 1964 Phillies (@epic64collapse) September 18, 2014
But like all Phillies teams, this one weathered a sloppy period in which they seemed like they were going to totally blow it. Unlike other Phillies teams, they didn't; but from September 17 - 19, 1993, it certainly felt inevitable.
***
"EXPOS PHILLIES SERIES ISN'T BASEBALL, IT'S WAR."

--Montreal Gazette headline
After Mariano Duncan hit a fucking grand slam off Lee Smith to win a walk-off on Mother's Day, it seemed that the Phillies could always count on something stupid happening that didn't make any sense. In fact, relying on that was sort of their main plan.
As they flew into Montreal to play a somewhat crucial series against the Expos, who were only five games back, the Phillies hadn't yet realized that their luck had momentarily run out.
On August 18, Montreal was 14.5 games behind the Phillies. They went 31-10 during the season's epilogue, including a 19-7 month of September. Meanwhile, the Phillies were swooning. They entered September 82-50 and went 7-7 leading up the front door at Olympic Stadium for a weekend series of crushed spirits, epic miscues, Mitch Williams, and probably wheelbarrows full of Labatt.
Lurking north of the border were all the old favorites: Marquis Grissom, Rondell White, Delino DeShields, Larry Walker, Cliff Floyd. 58-year-old Felipe Alou minded the dugout and 26-year-old Moises Alou patrolled left field. Is that a 25-year-old Matt Stairs on the bench? Holy shit!
At the time, though, the series was the epicenter of playoff baseball. The Expos wanted the Phillies to fail, the Phillies wanted the Expos to go away, and Pete Incaviglia wanted to devour a small group of Montreal fans dangling a noose over the Phillies dugout.
One fan dangled a large yellow noose over the Phillies dugout and waved it frantically whenever someone in gray and red neared before the game. "Hey Phillies," he screamed, "1964. It's 1964 again."

This is not one of Jim Fregosi's favorite subjects, but the manager laughed off the taunt when it was directed at him. A hobbling Pete Incaviglia, however, had some angry and unusual suggestions for the young man and his rope.
"Philly will fold," [Expos pitcher John] Wetteland told the Montreal Gazette's Jeff Blair. "They'll hit the skids at some point the same as everyone else does."
Early on, game one was all bases-loaded walks and Darren Daulton game-tying three-run dingers. But Ben Rivera had allowed a single and two walks in the fourth inning before walking the pitcher, Dennis Martinez, and pretty much forcing the Expos to take a 1-0 lead.
The next inning, Gentle Ben walked Delino DeShields and watched as he took second base seemingly at will and scored on a Larry Walker single. Roger Mason came on and gave up a sac fly to make it 3-0. Walker, scoring on the play, didn't like how Darren Daulton attempted to block the plate with his leg and bitched like a cat in heat at the Phillies catcher before fleeing to the dugout to quietly shit himself in frustration.
"Well, that's... too bad," Whitey commented in the booth on Walker's squawking, genuinely confused as to what the problem was.
The next inning, the Phillies broke loose. Daulton launched his crushing three-run blow, tying the game at three and leaving the Oympic Stadium crowd a stifled, sputtering fools. Mickey Morandini walked in a run, Lenny Dykstra hit a sac fly, and because that was a generally boring rally by '93 Phillies standards, Mariano Duncan doubled in Morandini and Kevin Stocker, padding a nice, safe 7-3 lead.
One would think a seven-run inning would be enough to feel secure. But the Phillies bullpen was in full meltdown mode, and at the center of it was overheating core: Mitch Williams.
A Bobby Thigpen balk put DeShields on second so he didn't have to waste any energy stealing it. He scored on Rondell White's single. In the seventh, Thigpen's strategy of "keep giving up singles" failed yet again, allowing Expos base runners to start circling the bases. It was 7-6 when Thigpen was relieved by Larry Andersen, who gave up the game-tying single to Grissom.
What followed was a series of 1-2-3 smotherings for both teams. Lenny Dykstra walked to lead off the ninth but couldn't hurl his body back to first base in time to avoid being picked off. With their backs against the wall, the Phillies sent in Williams, presumably because they thought it would help.
The last inning, the 12th, was a concise, 11-pitch unraveling for Williams, who gave up a double to Grissom. Grissom put enough space between himself and second base to drive a school bus and took off, the moment barely registering with the Phillies infield. Dave Hollins didn't even get to the third base bag and Dutch stopped himself from even attempting to throw.
The Expos needed one run to win and had a man on third with nobody out. If a stupid bit of luck was going to come out of nowhere, you know, now would be the time.
It wasn't the time. DeShields lofted a fly ball to Dykstra in center, well out of the danger zone. Grissom cartwheeled home and Stade Olympique  went nuclear.
As someone who I think must be Whitey put it on the broadcast, when they thought the mics weren't on, "... get the fuck outta here..." Phillies fans snapped at each other as the game faded into a Jiffy Lube commercial and turned things over to '90s Neil Hartman.
The next night, the Phillies would do the opposite, and hang on to win 5-4. But it had started as a 5-1 lead, before the eighth winning, when a Tommy Greene offering to Wil Cordero zigged where it should have zagged and landed in the bleachers for only Cordero's ninth home run in the season. Harry Kalas and Whitey had to shout their eulogies for the four-run lead over a once more raucous stadium.
There were still no outs, but David West came in and zipped through three straight hitters, giving way to - duh - Mitch Williams in the ninth. Williams - yup - walked Larry Walker and then - mm-hmm - sent him to second while trying to bounce a pick-off throw to John Kruk, who - you guessed it - slipped and fell on his ass as he gave chase and almost let Walker - yeah, you know - freak out and scramble to third. He got there anyway in a few seconds on a steal.
Hilariously, he stayed there as Williams struck out Mike Lansing and induced a fly ball to end the game. History has no record of which of Daulton's limbs Walker blamed for the loss.
The next night, Danny Jackson couldn't get out of the fifth inning, giving up four runs and five walks on only 79 pitches.
Benchlings Ruben Amaro and Wes Chamberlain had been chosen to surround Dykstra in the outfield for game three, and in the bottom half of the fifth, they each followed Darren Daulton with RBI singles to give the Phillies a massively unsafe 5-2 lead. Jackson retired one of the five hitters he saw in the bottom of the inning, giving an RBI double up to Rondell White before the Phillies middle relief corps came on and held firm until it was time, once again, somehow, to go to Williams.
Roger Mason got Wil Cordero to shoot a liner at Dave Hollins, who concocted an unassisted double play at third and shut the whole the place up. They refer to this as "Hollins' Dagger" in Canada, or at least they would, if the Phillies had won the game.
With Williams pitching in the bottom of the ninth, and the score 5-4, it was of course DeShields who fooled the Phillies closer with trickery (the man went 2-for-2 with a double and three walks on this night; he was basically already on base before Williams could finger the seams) to reach first and then - get this - stole second.
After a walk to White, John Kruk's pride took another hit, allowing Larry Walker to load the bases on an error. This time, Cordero's line drive got past Hollins, scoring DeShields and White, and winning the Expos the critical series and putting them four games back with 12 to play.
The Canadians' strange, cryptic language would haunt the Phillies' terrible dreams for several nights.
***
It wasn't a pretty series; the Expos committed five errors, including three in a game they won. Mariano Duncan, playing in all three games, had six hits, four of them doubles. Mitch Williams allowed three runs, three hits, and four walks in three innings of work.
In their last 15 games, the 1993 Phillies would go 8-7. They would allow 65 runs while only scoring 61.The Mets, Cubs, and Expos all played better in that stretch. In the NL West, the Giants went 13-3.
However, following the nightmare in Montreal, the Phillies would sweep the Marlins and take a game from the Braves, setting the stage for them to clinch the East in Pittsburgh, which they did.
The Expos played out the stretch like demons, winning eight of their final 13 following the series with the Phillies. After the 14.5 game deficit in mid-August, they finished three games behind the Phillies. The next year, they were considered World Series favorites until a work stoppage in baseball, and after a decade of futility in 2004 there was another work stoppage in baseball, only this one took place solely in Montreal.
The series left Montreal's baseball scene with some of the "wealth of wonderful memories" cited by Dave Van Horne in the final sign off of the Expos broadcast team in 2004 (spelling errors maintained):
"I remeber listening to the Cordero double on the radio, we were out in the country, along with many of my cousins, listening to the end of the game on a car radio, the doors opened so everyone could listen in. There was great excitment there. We basically just ran out of real estate that year, perhaps we could have had an Expos-Blue Jays World Series. It would have been a didaster for the ratings, but I don't believe people tought and talked so much about that kind of things back in those days."
"I also remember very well the 1993 game where Cordero hit that game-winning double down the left field line. Wow I was about 9 years old and I still remember it like it was yesterday. I never heard Denis Casavant's voice like that ever after. Normally composed, Casavant was literally yelling, which prompted Brulotte to yell even harder "Cordero, Cordero, COR-DE-RO."
Back in Philly, it left everybody frazzled, but relieved. The Expos had tried to ruin everything in 1993, but the Phillies had proven that no matter the challenge, they would emerge victorious in the face of Canadian baseball.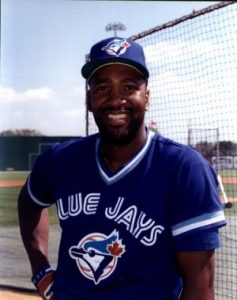 [Canadian Baseball Hall of Fame]
UPDATE: I'll bet there are a lot of memories like this one.
@FelskeFiles @justin_klugh I watched one of those games at Conchester Lanes with @picsmixed and one of his many high school female friends.

— Jeff Rendell (@jeffrendell) September 18, 2014
Leave yours in the comments.