Since our youths, we've all been constantly reminded that it is important to make good first impressions on others because initial impressions, good or bad, are difficult to overcome. Mr. and Mrs. Darin Ruf must have drilled this into their son from a young age because boy did he make a first impression.
The Babe Ruf burst onto the mainstream in 2012 when he hit a ludicrous .317/.408/.620 to go along with 38 dingers with AA Reading. At the time, that was all most fans heard. There was a guy down in AA hitting about as well as Ryan Howard did when he was there. Never mind that Howard was a year younger in his 2004 AA season than Ruf was in his 2012; the numbers where what they were. Ruf was the great white hope to take over as Howard's performance dropped.
While it's true that Ryan Howard made a late major-league debut relative to most players of his ability--his rookie season was his age-25 one--that delay was at least partially attributable to the fact that Jim Thome was being paid a substantial amount to occupy first base for the major league club. In Ruf's case, he played his rookie season at age-26, only one year older than Howard, but the reason for that was more damning--his employer didn't feel that he was ready and seemingly all publicly available scouting information agreed.
Once he came up, in late September 2012, he smoked the ball with 3 home runs in just 37 plate appearances. Yeah, sure, he struck out over 30% of the time and had a .400 BABIP, but this was the future, dammit. Fancy numbers can't get in the way of that.
But, behold Ruf's .235/.300/.414 (94 wRC+) 2015 and you might come to a funny conclusion: The numbers and scouting projections foretold the future pretty darn well. Ruf will be be 30 by the time the post-Ryan Howard era begins and, now 29, there is no indication that he is or will be anything other than a platoon player. For his career, Ruf has a .946 OPS against lefties compared to a meager .660 against righties. His 2015 was just an exaggerated statement of that platoon ability (1.107 OPS v LHP and .483 OPS v RHP).
This isn't the worst news in the world. The Phillies have one more year under the tyranny of the Ryan Howard extension, and Ruf's abilities at the plate are the yin to Howard's yang. Neither is particularly good on his own, but together, they can form a more-than-passable first baseman. Of course, you have to pay two players and burn two roster spots to get that, but it's better than, say, Cody Asche.
While Ruf's 2015 season, where he hit below league average for the first time at age 29 does not bode well for his future major league viability, the performance of a similar player gives one cause to be at least a little thankful that Ruf won't be arbitration eligible, and hence a non-tender candidate, for another two seasons.
If you've been watching any postseason baseball, you might be familiar with Toronto's 1B/DH/!OF! Chris Colabello, who is, in some ways an extreme version of Darin Ruf as a position-less late-bloomer. After playing in independent leagues, he was picked up by Minnesota and sent to their AA affiliate in his age 28 season. There, he smoked minor league pitching for parts of three seasons, but was unspectacular in his sort of extended major league looks.
When Toronto picked him up off waivers in December, most people didn't care much. Those who noticed mostly shrugged. After all, Colabello was a position-less AAAA masher.  Those are a dime a dozen. Still a defensive liability, Colabello finally figured out how to hit major league pitching in his third go-around at age 31.
I don't intend to suggest that Ruf is a season or two away from being the next Chris Colabello whose bat is valuable enough to overcome his significant defensive shortcomings, but only to suggest that that type of development isn't entirely unprecedented. Perhaps, though, that's why the talk radio stations are still inundated with "give Ruf a chance" callers every time he flies out to the warning track.
Back to Ruf's 2015, which I am at least nominally responsible for reviewing in this post. In short, it wasn't good. For the third time in the three seasons in which he's had over 100 plate appearance, he hovered right around the threshold of replacement level with quasi-league-average offense offset by magnificently sub-standard defensive chops. This GIF is arguably the best thing he was responsible for in 2015: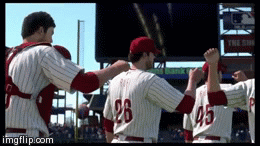 At age 28, enough should usually be enough. But, the Phillies are set to employ Ryan Howard for another season and have no other clear major-league quality first basemen at the ready. Sticking Ruf in a platoon with Howard for 2016 and, if no viable alternative emerges over the next 15 months, they should probably give him the job in 2017 before he becomes eligible for arbitration. He probably won't become their Chris Colabello because basically no one with a Colabellian history becomes Chris Colabello.
With no designs to be competitive in the next year or two, the Phillies find themselves with a luxury of sorts in that they can continue to give chances to players who just might be a part of their future. Darin Ruf is well-position to be a beneficiary of that bounty of patience. He hasn't exactly deserved it, but you don't have to deserve everything you get. Sometimes first impressions last a lifetime, or, in Ruf's case, about five years.