With Ryan Howard's continued struggles to open 2015 and Darin Ruf's continued existence, the talk radio airwaves have become saturated (I'm assuming here as I don't listen to sports talk radio) with calls for that latter player to be inserted as the starting first baseman over that former player. The likely arguments for that move (again, I assume) focus on Ruf's age and Howard's precipitous and continuing decline and conclude that Ruf constitutes an improvement in both present and future value for the Phillies.
One of the reasons this debate continues to be all the rage is that it is very difficult to develop a clear picture of Ruf's and Howard's respective present baseball abilities. In order to compile a meaningful sample for one player, the other must be removed from the lineup, thus limiting the power of that player's season statistics.
In pondering this conundrum one evening over some solo brews, I thought of a similar problem that plagued Socrates and his interlocutor Glaucon in The Republic. They had accepted the challenge of trying to define the human virtue of justice, but were struggling to reach a satisfying definition while focusing on the how that virtue manifests in the individual. Just as they were set to throw in the towel, Socrates proposed a compelling solution: just as it is easier to read big letters than it is to decipher tiny ones from a distance, justice might be easier to see on a scale larger than that of an individual virtue. Socrates speculated that it would be easier to see justice in the city because a city is, more or less, a giant person. Thus, they began constructing an elaborate "city in speech" in order to discover justice there and then apply that to an individual. This lengthy inquiry eventually produces the result that justice in the individual is simply having a harmonious soul.
While the validity of that particular conclusion has drawn significant scholarly criticism, it occurred to me that a process similar to that of expanding focus from the individual to the city might offer a solution to the seemingly interminable Ruf-Howard debate. What if, instead of focusing on Ruf and Howard as individual players and, more specifically, as first basemen, we were able to see a team of Darin Rufs versus a team of Ryan Howards? Perhaps that might allow us to settle the debate once and for all.
Fortunately, modern technology allows us to play out this experiment, with video highlights, in the virtual realm. MLB 15: The Show is the consensus best baseball game on the market, so it will serve as the canvas upon which we paint the scene that will settle the Ruf/Howard debate once and for all: a one-game show-down that places a team of 25 Ryan Howards against 25 Darin Rufs. To the victor go the rights to the first base throne.
Experimental Design
As I just noted, we're going to have a team of 25 Darin Rufs square off against a team of 25 Ryan Howards in a winner-takes-all battle for the rights to first base. To do this, the current population of each player will have to increase 25-fold and be grouped with their brethren on two separate, rival teams. Additionally, since only one of them can be on the Phillies in this virtual world, the other will have to find another home for his talents. To solve this, I made an executive decision to keep Darin Ruf on the Phillies and ship Ryan Howard and his 24 twins to the Baltimore Orioles. I picked Howard as the one to find other colors because, of the two, he seems the most likely to don a non-Phillies uniform first. The Orioles were picked because they have been the mot speculated upon trade destination for Howard being an American League team (DH) with a useless contract of their own to trade (Ubaldo Jimenez). While this move concedes to Ruf the home field advantage in this game to end all games, it seemed like the most reasonable solution.
To populate these rosters, I created 24 copies of each player. Their attributes and biographical data are exactly the same as their real-life counterparts with the exception that 12 Ryan Howards on Team Ryan Howard and 12 Darin Rufs on Team Darin Ruf are listed as pitchers. This does not affect their hitting attributes, which are the same for all 25 roster members. Unlike the first basemen Howards and Rufs, the pitchers have pitching attributes. These have been estimated based on 1) extrapolations from the limited data provided when OG Ruf and OG Howard were inserted into exhibition game pitching action and 2) responsible attempts to fill in the blanks. Rest assured: they are both horrendous pitchers.
Because the real battle here is between OG Ruf and OG Howard for King of First Base, both patres familias will occupy first base for their respective teams in this simulation. The only difference between these two and their teammates is that they look a bit more like their real-life counterparts than my amateurishly styled replicas. Their attributes are identical otherwise.
With the methodology in the clear, let's play ball!
It's a clear afternoon at Citizens Bank Park, with the temperature in the low 80s. Despite the beautiful weather and the sky-high stakes, only 22,309 fans saw fit to attend this game, leaving nearly half of the seats empty. This game means nothing but it feels like it means everything. Philadelphians should be ashamed.
Your Starting Lineups:
Inning the First
The first inning went by surprisingly quickly and quietly as Pitchers Howard and Ruf both breezed through the top of their opponent's lineup despite being constantly at a platoon disadvantage. Although, it wasn't pretty--pitchers armed with nothing but low-80s fastballs and low-70s changeups rarely will be--the starting pitchers for each side were effective, inducing weak contact. Perhaps most impressively of all, the defense behind them made the plays that had to be made. Impressive stuff from Howards and Rufs defensively.
Inning the Second
Top of the inning: The Rufs only needed 11 pitches to retire the Howards, who did muster a one-out single this inning off Ace Ruf for the first baserunner of the game. Ruf wasn't going to let the situation escalate, though, as he induced two weak ground balls to get out of the inning.
Bottom of the inning: This pitchers' duel was fated to be short-lived with two non-pitchers pitching against the platoon to real, not-awful Major League hitters and the bottom of the second was when the offense made its inevitable breakthrough. And breakthrough it did. I thought the game-generated play-by-play for the inning was an entertaining read, so I simply reproduced it below and provided some GIFs to illustrate some of the more abstract concepts expressed therein. You can position your cursor over the image to gif-ify it. Or, you can choose to live in the past and conduct your internet reading exclusively in still images. Your choice, I guess.
"Phillies batting. Ruf grounded to center for a single. Ruf doubled to center. Ruf scores. Ruf doubled to right. Ruf advances to 3rd.
Ruf reached first on fielder's choice (5-2 FC) Ruf out.
Ruf flied out to Howard (F8). Ruf hit to left for a single. Ruf scores. Ruf advances to 2nd. Ruf homered to left. Ruf scores. Ruf scores.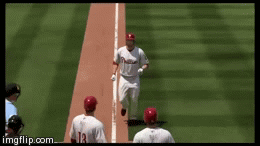 Howard in bullpen. Ruf doubled to center. Ruf reached second on a fielding error by Howard (E5). Ruf scores.
Howard in bullpen. Howard pitching. Ruf grounded and deflected off third baseman Howard for a single. Ruf advances to 3rd. (Note: this video demands to be watched with audio)
Ruf struck out chasing a fastball high and in."
And so ended the inning, but not before the Rufs scored 6 runs and chased starting pitcher Ryan Howard, who was tagged for 7 hits and 6 runs over 1.2 innings. Not a great start from this particular iteration of Ryan Howard, but look at the spin! And here we thought Ryan Howard wasn't agile.
Inning the Third
Top of the Inning: Staring straight into the barrel of a pivotal shutdown inning, the Rufs choked big time, surrendering a leadoff dinger to, who else, Ryan Howard. Starting Pitcher Darin Ruf did regain his composure, but he found himself with a Howard on second and two out with Ryan Howard at the plate. Ryan Howard hit a solid ground ball that seemed destined for centerfield and a comical play at the plate as previously-on-second-base Ryan Howard attempted to score, but no! We forgot Gold Glove Second Baseman Darin Ruf was in the lineup.
So the Howards were held to one run in the inning. In absolute terms, the shutdown inning was a failure, but in more relative terms, it wasn't half bad.
Bottom of the inning: No shot goes unanswered in the world of Darin Ruf. This is the first axiom of Ruf v. Howard. Having been unable to effectively execute a shutdown inning themselves, Darin Ruf would be damned if he/they stood by while the Ryan Howards put together a shutdown inning of their own. So, what did they do? Well, Darin Ruf led off with a home run, that's what they did. "And what did they do next?" you ask, you nosey bastard. Well, sir, Darin Ruf hit another home run. Consider the shutdown inning shoved up Ryan Howard's big old tookus. Satisfied with their early explosion, the next three Rufs were retired, to end the 3rd up 8-1 on the Howards.
Inning the Fourth
Top of the inning: Having already blown one shutdown inning, the Rufs were facing the pressure to finally convert one. On the first pitch of the inning, Ryan Howard drove a hard line drive off a Darin Ruf fastball to centerfield. Once, again, Darin Ruf flashed some golden leather, making a spectacular catch that likely prevented a leadoff double.
Crisis averted? I think not. After retiring real Ryan Howard on a grounder into the shift and some other Howard on a weak flyball to right, yet another Ryan Howard launched a home run to centerfield, foiling yet another Ruf shutdown inning. The next Howard, satisfied with their progress in the 4th went down meekly to end their half of the inning with the score 2-8 in favor of the Rufs.
Bottom of the inning: No shot goes unanswered in the world of Darin Ruf. That statement was true in the third inning, and it's also true in the fourth as the Raging Rufs put another two runs on the board to the dismay of the Humbled Howards. It started harmlessly enough with a solo HR with one out in the inning, but then things got ugly, or, for the purposes of internet gif-making, hilarious. Another Ruf followed with a single. The next batter, Darin Ruf, hit a deep, yet routine, fly ball to center fielder Ryan Howard. But, nothing is routine for a Ryan Howard-manned defensive position, as this particular ball went right off his noggin for a double, allowing the other Darin Ruf to score from first.
After a double play, the Howards looked to be out of the inning when yet another Ruf hit a ground ball that stayed in the infield. Remember our second axiom, though: no play is routine for Ryan Howard.
That ultimately amounted to nothing as the next Ruf popped up to catcher Ryan Howard to end the inning, but part of why the Rufs have been so dominant is that they have avoided major defensive gaffes, whereas the Howards, well, uh, they haven't. In fact, even the rare Ruf miscues ended positively as even dropping called third strikes didn't come back to haunt them:
The 5th, 6th, 7th, and top of the 8th innings all went by uneventfully as both teams were clearly playing out the string. Maybe they would have cared more if some damn fans would have dragged their hungover keisters out of bed on a Sunday afternoon to witness this triumph of cloning, but, they didn't, so this is what we must suffer through.
Inning the Eighth, Bottom of
There honestly wasn't much that happened here. These teams continued their lackadaisically progress to the finish with the Rufs leading 12-2, but after a leadoff walk by Darin Ruf--the team's first of the game--the Howards showed a modicum of defensive ability, first on a near-double play and then on an actual double play.
You can almost taste the momentum working in the Howards' favor going into the top of the 9th.
Inning the Ninth
Top of the inning: Remember that comment about momentum? I hope you do, it was the last sentence you read--that is, the one you read before the question preceding this sentence. The specifics matter not. You might have thought that was a throw-away sentence designed to build suspense where there was none. If you thought that, you were wrong--that much I can tell you. The momentum was palpable, although the Howards didn't actually tap into it until after recording two quick outs.
Despite being down 10 runs with two out in the ninth inning, the Howards were not yet ready to be humbled by the Rufs. A solo dinger from a Howard cut the lead to a more manageable 9 runs. The next Howard followed with a single to keep the rally alive. With chances of a victory not yet dead, Ryan Howard laced an RBI double into the gap in right. All of a sudden, the lead was down to 8 with one whole out still needed for the Rufs to hang on to their now tenuous grip on victory. The Howards were smiling, the Rufs were sweating. The next Howard, with the game nearly on the line, grounded out softly to OG Ruf who beat Howard to the bag for the final out of the game.
The final score of 12-4 in favor of the Rufs should settle the Ruf/Howard debate for good. This game definitively proved that Ruf is better than Howard both offensively and defensively and that, therefore, he deserves permanent insertion as the Phillies starting first baseman. Congratulations, Darin Ruf. No one can say you didn't earn it. Feel free to celebrate your accomplishment: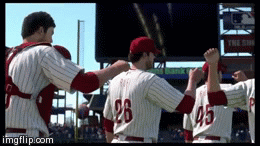 Final Linescore:
| | | | |
| --- | --- | --- | --- |
| | Runs | Hits | Errors |
| Howards | 4 | 13 | 4 |
| Rufs | 12 | 14 | 0 |
Additional Odds and Ends
I think I mentioned this above, but I thought it was interesting that the game put on the Howard shift for OG Ryan Howard but not for any of his replicas. I get that OG Howard has a decade of batted ball data to his name that the clones don't, but, and I find myself repetitive on this point, all the Howards have the same attribute profile as the OG.

Despite the substantial run differential, both teams threw essentially the same number of pitches, with the Howards throwing 143 and the Rufs throwing 142 to get through the game.

For some reason, Orioles manager Buck Showalter felt compelled to pinch hit for pitcher Ryan Howard as if he were a normal pitcher despite no difference in hitting ability between all 25 Ryan Howards on the roster.

MLB 15: The Show seemingly can't conceive of a left-handed catcher. If you pay attention to catcher Ryan Howard in any of the above videos or gifs, you'll notice he is right-handed. Same as his 24 teammates, catcher Ryan Howard is listed as left handed for both batting and throwing.

The Howards grounded into four double plays while the Rufs only hit into one.