Long ago, the Phillies were the toast of this town. Serious civic and industrial issues were blatantly ignored in favor paying the pride of Philadelphia just the slightest more attention.
"Help us, please," wailed the children.
"Shh, Howard's batting with the bases loaded," everyone replied.
"Ryan Howard?" the children said. "Didn't he just get that crazy extension? That seemed a little overzealous."
"What?!" everyone else exclaimed, their heads performing the unnatural act of turning away while the beloved Phillies slugger was batting. "Jon Heyman said the Phillies did a 'good job' with that deal! Who else in this league is going to hit 60 home runs every year until he retires?!? Idiot children."
And so, the people's jubilance spilled from the streets of the city and pages of the newspapers onto the walls of the buildings. It was announced in 2011 that the team that had won our hearts would be immortalized with a mural at 24th and Walnut. There was even a vote to see who would be the final Phillies figure depicted on the nondescript eight-story building near the filthy Schuylkill River .
Then for a while, nothing happened. The Phillies imploded and went back to the regular ranks of suckitude the city was used to from its sports teams.
In the mean time, the city didn't have any shortage of murals honoring the grand spectacle of Philadelphia sports!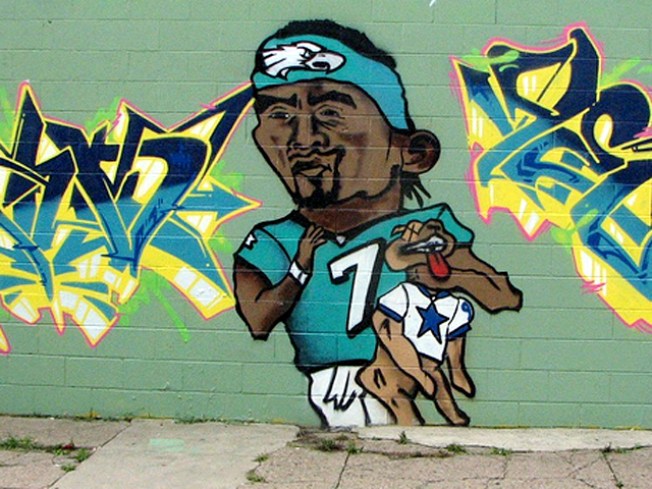 But now, in 2015, things are back to being better than ever (as long as you're huffing the right amount of mural paint), and it's been announced that the Phillies mural will go ahead as planned.
The Phillies' marketing director filled in reporters on the reason work had stopped, immediately listing a small facet of the city's problems:
"Multiple property owners, an adjacent bridge and river, active railroad tracks, various safety issues..."
It's almost as if it wasn't an ideal spot in the first place, but I don't know anything about urban mural placement. In the future, you'll be able to pile your family into the van, drive on down the Schuylkill River Trail (as runners and bikers scream and hurl themselves out of the way; there's no cars on that trail you damn psychopath), and force everybody to stare at the large painting showing off our favorite team's glory years. Critics agree that doing so for about the length of an actual Phillies game would probably be a more enjoyable experience than the game itself.
Philadelphia: the city where everything is fine.